24 Hours of Prayer & Fasting
Our hope is that we'll have 1 or more prayers or each of the 24hrs bellow.
12am: 0 prayers
1am: 0 prayers
2am: 0 prayers
3am: 1 prayers
4am: 0 prayers
5am: 1 prayers
6am: 4 prayers (Facebook LIVE prayer Time)
7am: 3 prayer
8am: 2 prayers
9am: 2 prayers
10am: 1 prayers
11am: 1 prayer
12pm: 2 prayers (Zoom Prayer Meeting)
1pm: 1 prayers
2pm: 1 prayers
3pm: 1 prayers
4pm: 1 prayer
5pm: 1 prayers
6pm: 1 prayers
7pm: 3 prayers
8pm: 5 prayers (Facebook LIVE Family Prayer Time w/ PJ )
9pm: 1 prayers
10pm: 1 prayers
11pm: 0 prayers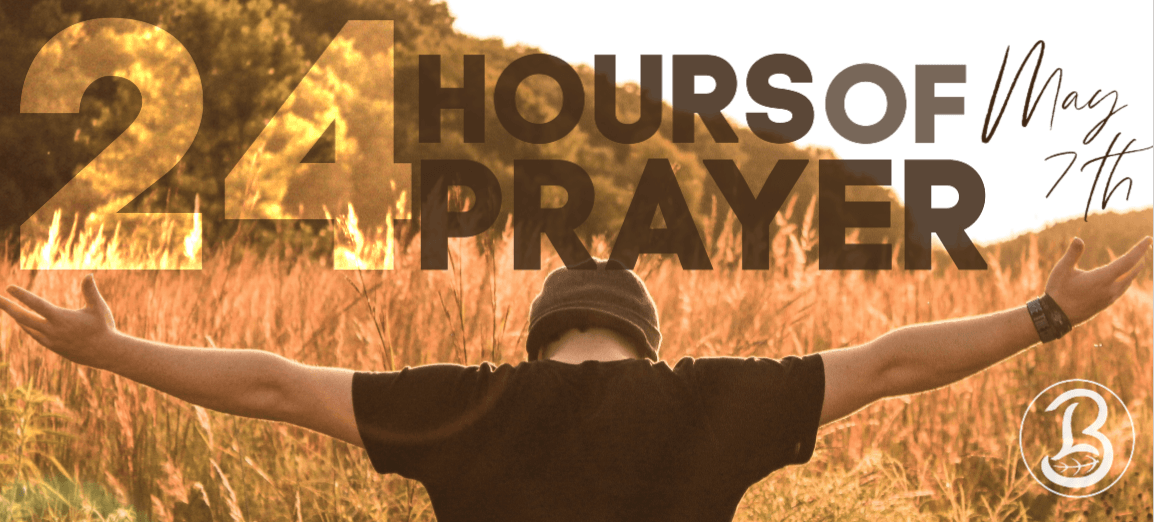 24 Hours of Prayer Topics and Bible Reading Schedule
As you join us during this special day of prayer we encourage you to use the pattern in the Lord's Prayer and pray through...
Adoration - Our Father
Praise - Hallowed be Your Name
God's will - Your Will Be Done
Intersession - Give us this Day our Daily Bread
Confession - Forgive us our debts
Forgiveness - As We Forgive Others
Spiritual Protection - Deliver us from the Evil One
God's Glory - Yours the the Glory Forever - Amen.
As you pray we ask you to pay particular attention to the topic assigned to your hour and to pray through the connected Bible passages below.
12am Orphans and foster children: Psalm 68:5, Psalm 146:9
Additional -Psalm 3
1am Those in abusive home situations: Colossians 3:19, Exodus 22:21
Additional - Psalm 9
2am Unity within the church body: 1 Corinthians 1:10, Colossians 3:13-14
Additional - Psalm 13
3am Education; teachers, parents and what the future looks like: Ephesians 1:17, Proverbs 2:3-6, Proverbs 8:10-11 Additional - Psalm 103
4am Homeless, poor and needy: Deuteronomy 15:11, Matthew 25:35
Additional - Psalm 91
5am Those sick, their families and the vulnerable: Isaiah 41:10 and Isaiah 53:4-5
Additional -Psalm 6
6am MORNING PRAYER TEAM VIDEO (PRAY TEAM FACEBOOK PAGE)
7am Front line workers - hospital workers, grocery workers: Psalm 91:1-4, Philippians 4:4-7
Additional - Psalm 10
8am Scientific communities - find cure/treatment/immunization: Proverbs 2:6, 2 Timothy 2:15
Additional - Psalm 18
9am Government - National, State, Local: Psalm 102:15, Isaiah 58:6-11
Additional - Psalm 23 & 27
10am Military and Troops: Ephesians 6:10-12, 2 Chronicles 32:6-8
Additional - Psalm 30 &33
11am Missionaries in areas with high infections, poor health care or hostility: Psalm 126:5-6, Isaiah 61:1
Additional - Psalm 33 & 35
12pm ONLINE ZOOM PRAYER MEEING (12NOON)
1pm Boldness of believers to share gospel: 1Peter 3:15, Mark 16:15
Additional - Psalm 38 & 41
2pm Media & Social media - to share accurate truth, encouragement and the gospel: John 7:18, Philippians 4:8, Psalm 119:9 Additional - Psalm 42 & 51
3pm Those facing layoffs and financial hardships: Philippians 4:19, Leviticus 25:35-36
Additional - Psalm 63 & 70
4pm Those missing Big life events - marriages, seniors, college students: Psalm 16:8-9, Romans 5:5
Additional - Psalm 84
5pm Churches/Pastors: 1 Kings 8:10-11, Ephesians 4:11-12
Additional - Psalm 86
6pm Families - with young ones, school age - homeschooling: Deuteronomy 6:7, Ephesians 5:22-33
Additional - Psalm 139
7pm Those sheltering alone and those / depression, anxiety, suicidal thoughts: Ps 25:16-17, 2 Cor 4:8-9
Additional - Psalm 145 & 147
8pm FAMILY PRAYER TIME WITH PASTOR JOSH FACEBOOK LIVE
9pm Those imprisoned or persecuted: psalm 69:33, Romans 15:13
Additional - Habakkuk 1-3 / Lamentations 3:22-39
10pm That God would be glorified through this pandemic: Matthew 5:16, Revelation 4:11
Additional - Psalm 73
11pm Business: Colossians 1:9b-11a, 1 Corinthians 10:31
Additional - Psalm 105